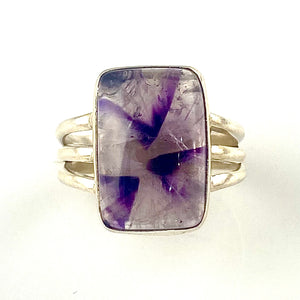 Amethyst "Super 23" Sterling Silver Ring
Regular price
$ 89.00
$ 0.00
Unit price
per
Genuine Amethyst Sterling Silver Ring.
DETAILS:
* Amethyst Ring
* Size 8 1/2
* 5.2 g total weight
* Set in SOLID .925 Sterling Silver 
* Stamped .925
* Measures approximately 3/8" x 3/4"
This stunning transparent Amethyst polished crystal looks as if it has 3 "points" or crystals within one! The varying shades of purple are sensational! The simple high gloss band consists of 3 bands becoming one, perfectly echoing the stone. Open air and light weight. You'll never tire of this ring! 
Amethyst Super 23, otherwise known as Auralite, is a very rare type of Amethyst that can only be found in one place in the world: Canada. Each piece contains a combination of about 2 to 7 different minerals from a list of 23. This stone is estimated to be around 2.4 Billion years old & to have come from a time when everything had melted into a solution due to heat from impacting comets. Some of the 23 different minerals that have been found in Auralite (Amethyst Super 23) are Silver, Gold, Platinum, Hematite, Amethyst, Citrine, Quartz, Malachite & more!
Today, it is being called by many as the most powerful crystal to have ever been discovered. Some believe that it is a new age stone that has surfaced in these times of crisis to help humanity heal. Auralite removes the "ticking clock", replacing it with calmness & deep thoughtful insight. It allows the body to relax & removes tension, headaches, eye strain, stress & muscle pain. Auralite tones down anger & hot tempers. It also raises mindfulness & teaches to think before doing. This stone is also known as the "Ultimate Master Healer" due to its powerful healing properties. The sheer amount of elements found in Auralite is enough to ignite positive changes in a person's soul. It creates a bridge to the divine & serves as an open channel to the angelic realms & the universe.
Comes in a gift box, perfect for gift giving!

*All items ship USPS First Class Mail with tracking from CO.

Thanks for looking!
---
Share this Product
---