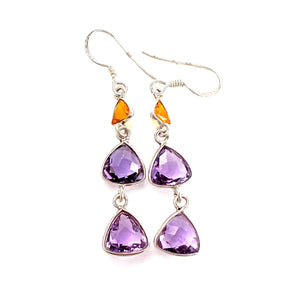 Amethyst & Citrine Trillion Stone Sterling Silver Earrings
Regular price
$ 69.00
$ 0.00
Unit price
per
Amethyst & Citrine set in solid sterling silver artisan crafted earrings.

DETAILS:
* Amethyst & Citrine Earrings
* 4.3 g total weight
* Set in SOLID .925 Sterling Silver
* Stamped .925
* Measures approximately 3/8" wide and 1 7/8" long including earring wires

Faceted Citrine followed by two Amethyst trillions compliment the entire design in these sweet earrings.  The hinged colors, shapes, and facets create light play, sparkle and movement. These earrings are minimalist but have great impact. You will reach for these lightweight dangles time and time again!
Also known as the "Light Maker," the Citrine crystal has a bright yellow hue, which reflects its equally vibrant energy. Like Vitamin C for the soul, the Citrine properties emanate positivity and joy. By connecting with the Citrine meaning, you can harness the energy of light from the sun embodied within this stone, which acts as a source of positive energy in all aspects of your life. From your attitude and outlook to your projects and pursuits, the Citrine crystal meaning is perfectly suited to raise your vibration and help you embrace positivity and optimism as you move through life.
Amethyst has been highly esteemed throughout the ages for its stunning beauty and legendary powers to stimulate, and soothe, the mind and emotions. It is a semi-precious stone in today's classifications, but to the ancients, it was a "Gem of Fire"; a Precious Stone worth, at times in history, as much as a Diamond.
Amethyst has always been associated with February, the month the Romans dedicated to Neptune, their water god. Therefore, it should be no surprise that it is the traditional birthstone of that month. It is the stone of St. Valentine and faithful love and signifies ecclesiastical dignity as the Bishop's Stone. It carries the energy of fire and passion, creativity and spirituality; yet bears the logic of temperance and sobriety.
Comes in a gift box, perfect for gift giving!

*All items ship USPS First Class Mail with tracking from CO.

Thanks for looking!
---
Share this Product
---