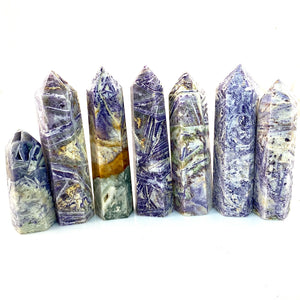 Tiffany Stone Polished Towers, Choose Size, Polished Tiffany Stone for Décor and Ambiance
Regular price
$ 46.00
$ 0.00
Unit price
per
Tiffany Stone Polished Towers, Choose Size, Polished Tiffany Stone for Décor and Ambiance
DETAILS: 
* Tiffany Stone Tower
* ORIGIN: Utah, USA
* Approximate Dimensions:
  ~Medium:    1 1/4" Base  3 3/4" Tall
  ~Large:      1 1/4" Base  4" Tall 
Tiffany stone is an extremely rare material. It is mined at one location worldwide at Spor Mountain, western Utah. It occurs there as nodules that are part of the ore produced at the mine where they mine Beryllium a high-strength, lightweight metal used in military, aerospace, and medical industries

Tiffany stone is also known as Opalized Flourite and also called the Ice Cream Stone.  Some say the name Tiffany Stone came about because the slab slices cut from the nodules reminded the miners of Tiffany glass lamp shades. 
Metaphysical Properties
*Enhances Intuition
*Tremendous Protection Stone
*Assists with attaining Abundance & Prosperity
*Helps grow wealth
*Helps forward movement in Business & Finances
*Instills mental clarity
*A stone of passion
*Transmutes negative energy
*Assists in development of one's psychic abilities
*Helps to release blockages
*Aids you to make a stronger spiritual connection

*** These are natural stones, so there will be imperfections and blemishes and fissures in your stones.  It's part of their personality.  It's natural to the stones. Consider it a birth mark. You will receive a specimen similar to the ones in the photo.
***DISCLAIMER: This information is NOT intended to be a substitute for medical advice, treatment or diagnosis.
* All items ship USPS First Class Mail with tracking from CO.
Thanks for looking!
❤️Love & Light❤️
---
Share this Product
---