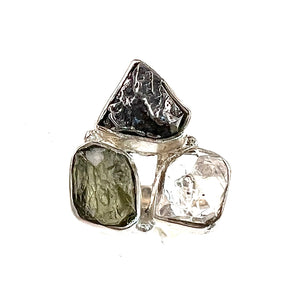 Campo de Cielo Meteorite, Moldavite & Herkimer Diamond Sterling Silver Ring
Regular price
$ 125.00
$ 0.00
Unit price
per
Campo de Cielo Meteorite, Moldavite & Herkimer Diamond Sterling Silver Size 6 Ring.

DETAILS:
* Moldavite, Campo de Cielo Meteorite & Herkimer Diamond Quartz Ring
* Size  6
* 5.6 g total weight
* Set in SOLID .925 Sterling Silver
* Stamped .925
* Measures approximately 3/4" in diameter

This amazing ring boasts a Campo de Cielo Meteorite, Moldavite and Herkimer Diamond Quartz bezel set in simple Sterling Silver.  The combination of the stones is unique and creates an interesting ring of energy and a conversation piece.
The Herkimer diamond is a double pointed Quartz Crystal that has already been faceted by nature.  The Herkimer comes from only one place - Herkimer, New York, in the United States. The bedrock in which the crystals are found began forming approximately half a billion years ago in a shallow Cambrian Sea that lapped against the southern shores of the ancestral Adirondack Mountains.
Herkimer diamond is believed by some to have metaphysical properties including healing and increasing spiritual energy. Known as the 'Stone of Attunement', Herkimer diamond can purportedly be used to help those looking to experience astral travel or have lucid dreams.
The Meteorite Campo de Cielo hit an area in Argentina and was first discovered in 1571.  This meteorite is thought to have fallen 4,000-6,000 years ago. Pieces range in size from grains of sand to 35 tons. 
Like all meteorites, Campo del Cielo assists one in the full physical transformation of your own existence, while elevating your consciousness to new, unimaginable heights. Meteors provide an energy that pushes one to completely break down their idea of themselves (and who they are) so they can begin to rebuild the true image of themselves. Campo del Cielo meteorite fragments soar above all other space rocks when it comes to the reimagination of who you really are. 
Moldavite is a green translucent silica meteoric glass created by a large cosmic velocity meteorite which vaporized when it struck the earth in Nordlingen, Germany.  A small percentage of that vapor was propelled into the ionosphere by the impact explosion through the hole punched in the earth's dense atmosphere.  When this silica vapor reached the cold of outer space, it condensed then solidified and fell back to earth creating a strewn field of lime green tektite, several hundred miles away in the Moldau River Valley north of Prague, Czechoslovakia.  Thus the name Moldavite.
Moldavite is a stone of transformation. This fascinating gem has been here for more than 15 million years and is believed to be a great stone for bringing about shifts in energy, encouraging us to let go of negative thoughts and feelings, and untethers us from past traumas so we can move forward in life.
Comes in a gift box, perfect for gift giving!

*All items ship USPS First Class Mail with tracking from CO.

Thanks for looking!


---
Share this Product
---