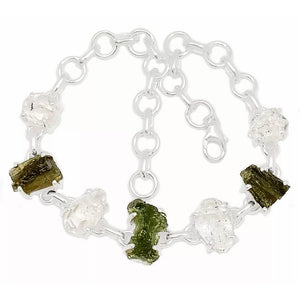 Moldavite & Herkimer Sterling Silver Bracelet
Regular price
$ 599.00
$ 0.00
Unit price
per
Moldavite & Herkimer Diamond Sterling Silver Bracelet

DETAILS:
* Moldavite & Herkimer Diamond Quartz Bracelet
* 14.6 g total weight
* Set in SOLID .925 Sterling Silver
* Stamped .925
* Measures approximately 3/8" x  6" to 8" long (adjustable)

This amazing bracelet boasts Moldavite and Herkimer Diamonds bezel set in simple Sterling Silver.  The combination of the stones is unique and creates an interesting ring of high intensity energy and a conversation piece.
The Herkimer diamond is a double pointed Quartz Crystal that has already been faceted by nature.  The Herkimer comes from only one place - Herkimer, New York, in the United States. The bedrock in which the crystals are found began forming approximately half a billion years ago in a shallow Cambrian Sea that lapped against the southern shores of the ancestral Adirondack Mountains.
Moldavite is a green translucent silica meteoric glass created by a large cosmic velocity meteorite which vaporized when it struck the earth in Nordlingen, Germany.  A small percentage of that vapor was propelled into the ionosphere by the impact explosion through the hole punched in the earth's dense atmosphere.  When this silica vapor reached the cold of outer space, it condensed then solidified and fell back to earth creating a strewn field of lime green tektite, several hundred miles away in the Moldau River Valley north of Prague, Czechoslovakia.  Thus the name Moldavite.
They have an amazing energy that helps to create change in your life once you begin to utilize their vibration.  It is believed that Moldavite crystals have a powerful crystal energy, that is known for its action to stimulate highly beneficial occurrences of synchronicity in your life.  It thought to have a powerful energy to aid spiritual awakening, transformation and spiritual healing, but it is not always easy to use.  It has a strong energy to assist you to connect with the Divine mind, which is wonderful to move you forward spiritually, to a higher level.
Comes in a gift box, perfect for gift giving!

*All items ship USPS First Class Mail with tracking from CO.

Thanks for looking!


---
Share this Product
---